Cybersecurity threats are accelerating.
To stay ahead of the latest attacks, even as the #1 MSSP in the world (Cyber Defense Magazine, 2021), we have undergone a transformation over the past 18 months. In February 2021, the company I founded, Herjavec Group, welcomed an investment by leading private equity firm Apax Partners to help scale the business and fast-track our global expansion. But we were just getting started! Six months ago, in December 2021, we announced the merger of Herjavec Group with leading security solutions provider Fishtech Group, founded by my good friend and industry pioneer Gary Fish.
At the time of the merger, which brought together the leader in co-managed security technology with the leader in 24/7 cloud-native security-as-a-service, we housed more than 600 security professionals operating out of six security operations centers with offices in the United States, Canada, the United Kingdom, and India. Since then we've added close to 200 more, growing what is already one of the largest managed security engineering teams in the world, entirely dedicated to delivering innovative cyber solutions to our enterprise clients.
I'm thrilled to continue growing with our merged company's new brand – Cyderes – which stands for "cyber defense and response." It is the most straightforward name for who we are and what we do. We help secure enterprises so they can focus on accelerating their growth and digital transformation amid an ever-evolving threat landscape.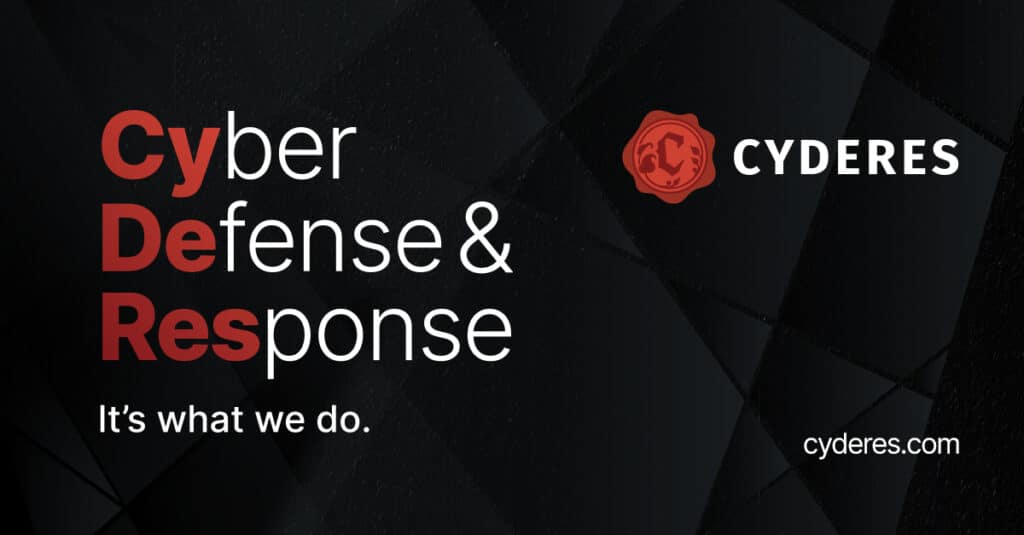 Enterprises of all sizes are struggling to keep up in what has been a very fragmented cybersecurity space. With the hundreds of security products in the marketplace, protecting your business can be overwhelming. The fact is that no one solution or tool will keep you safe. What you need is an in-depth defense and response strategy with a layered approach.
At Cyderes, we provide the people, process, and technology modern enterprises rely on to manage risk, maintain compliance, and respond to security threats with greater speed, scale, and cost-efficiency than traditional in-house solutions.
With offerings spanning Managed Security Services, Identity and Access Management, and wide-ranging Professional Advisory Services, we will continue to deliver customized and flexible solutions to meet the needs of enterprises worldwide.
Cyber defense and response. It's what we do.
To your success,
Robert Herjavec
Chief Executive Officer
---
Take the first step in transforming your cybersecurity program
Enterprise security teams are adapting to meet evolving business needs. With six global Security Operations Centers, emerging technology partners and a dedicated team of security specialists, Cyderes is well-positioned to be your organization's trusted advisor in cybersecurity. We'll help you understand your risk exposure, increase your visibility and ROI, and proactively hunt for the latest threats.